Government-in-Action Youth Tour
Congratulations to Yancy Perkins of Comanche and Madison Green of Early on being named the 2020 representatives for CECA. Perkins and Green will attend a ten day, all-expense paid trip to Washington D.C. in June!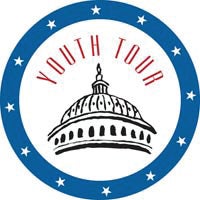 CANCELLED! Due to the Corona virus the 2021 Government-n-Action Youth Tour has been cancelled. Please check back next year.
Each year Comanche Electric Cooperative sponsors up to two students on the Government in Action Youth Tour trip to Washington D.C.The seven day tour includes visits to the National Cathedral, Lincoln Memorial, Mount Vernon, and the Smithsonian Museum, as well as a host of other national sites. The students also have the opportunity to have down time and fun in the form of dinners at such places as The Hard Rock Cafe, shopping at Union Center, dances, etc.
The contest is open to any student, sophomore and above, who attends a school where Comanche Electric Cooperative has facilities, or if the student's parents or legal guardians are members of Comanche Electric Cooperative. Qualifying schools are: Albany, Baird, Bangs, Blanket, Breckenridge, Brownwood, Cisco, Comanche, Cross Plains, De Leon, Dublin, Early, Eastland, Goldthwaite, Gorman, Gustine, May, Moran, Mullin, Priddy, Ranger, Rising Star, Sidney and Zephyr.
This is an all expense paid trip and the winning students will receive air fare, transportation, lodging, meals, insurance, and admission charges associated with the tour.
The winning participants for the 2020 Government in Action Youth Tour are Madison Green of Early, and Yancy Perkins from Comanche. Due to Covid 19 the trip had to be canceled. Perkins will attend the 2021 tour along with the 2021 winners. Madison, a Senior, will not be eligible to participate but will receive a $2,000 scholarship in place of the trip
The 2021 Government-in-Action Youth Tour trip will be June 13-22.
To apply for the trip click on the link above and fill out and submit the application above. Questions can be directed to Shirley at 800-915-2533 or sdukes@ceca.coop.
Deadline for entries is December 31, 2020.
This block is broken or missing. You may be missing content or you might need to enable the original module.